Ziad K. Abdelnour – President & Chief Executive Officer
Physical Commodities Trading/Private Equity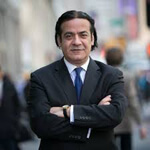 Ziad K. Abdelnour is Founder, President & CEO of Blackhawk Partners, Inc. a private "family office" in the business of originating, structuring & acting as equity investor in strategic corporate investments and co-Founder of OMV Capital LLC; a trading platform focusing on the financing of real estate, infrastructure and project finance properties throughout the globe.
Founder & Chairman of the Board of the Financial Policy Council; a 501 (c) (3) non-profit organization designed to give its select group of supporters the opportunity to have a direct face-to-face dialogue with the nation's quintessential power brokers and policymakers.
Chairman of the Advisory Board of Hawkstorm Global – a business specializing in providing a wide array of elite services ranging from Emergency Response and Asset Protection to Security Consulting and Risk Assessments by former members of Navy seals, CIA, DOJ, Blackwater, FBI, State Department, and DEA Agents.
Author of the best-sellers "Economic Warfare: Secrets of Wealth Creation in the Age of Welfare Politics" and "Startup Saboteurs: How Incompetence, Ego, and Small Thinking Prevent True Wealth Creation"
Mr. Abdelnour has over 30-year experience on Wall Street backing over 125 companies & serial entrepreneurs worth in aggregate over 20 billion dollars in the private equity, high yield bond, and distressed debt markets.
He holds an MBA in Finance Summa Cum Laude from the Wharton School of Business at the University of Pennsylvania & BS in Economics, Summa Cum Laude, from the American University of Beirut.
Today, Mr. Abdelnour continues to be featured in hundreds of media channels and publications every year and is widely seen as one of the top business leaders by millions around the world.
You can follow him at Freedomforall along with YouTube Channel, TWO platforms which will constantly keep you posted of all details including but not limited to his TV, radio, book signing events, public venues and other worldwide appearances.
Mr. Abdelnour was just recently been featured as one of the 500 Most Influential CEOs in the World and among the most famous US financiers in US history.